High-School Students Gain Confidence with Software Coding as Musubi Summer Interns
Like most high-schoolers, Arjun Manimaran was well-acquainted with posting on Facebook, using a smartphone, and Web surfing. But creating software apps? That, to him, sounded like a challenge that he would need many more years of schooling to take on—until he took part in the Migo project, working with a new smartphone platform called Musubi. Then the Lynnbrook High School senior discovered that he could create apps and have a great time doing it.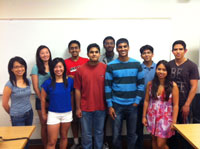 The Migo Team
"To me, a high schooler coding an application seemed unlikely, but this program has taught me that it is possible with some work," he said.
Musubi is a new Stanford-University-developed interface on which users send pictures, voice recordings, texts, and apps to friends via their phones. Unlike on Facebook, the content doesn't post to a public timeline for all the user's friends' viewing. Only the selected friends see what the user sends.
Also, users have solid privacy protections. The company does not claim rights to their information and does not sell it to outsiders.
The Musubi software is available in Google Play and the iPhone store.
In summer 2012, to show young people what they could do with Musubi, the Stanford team organized the Migo program, which recruited seven high-school-student interns: from Henry M. Gunn High School in Palo Alto, Calif., junior Neel Guha, junior Faramarz Munshi, senior Anita Chan, and senior Lisa Yan; from The Harker School in San Jose, junior Divyaharans Gupta and senior Nikhil Nayaren; and from the Lynnbrook High School in San Jose, senior Arjun Manimaran. Also participating were two college interns from Stanford's software department—sophomores Sarah Nader and Jorge Aguirre.
"Musubi was one of the greatest apps I had laid eyes on, not because of the app itself, but because of the potential." ~ Munshi
For the five weeks of Migo, several grad students and Monica Lam, a software professor, showed the interns how to use HTML, Python, and other programming languages to create games and apps that they could share with friends via Musubi. By the program's end, the interns had developed five:
an online Truth or Dare game.
Bucket List, a multipurpose to-do list.
Game Portal, an online gamer function for users playing a game on Xbox, Wii-U, Playstation, or Steam to "check in" and alert other online users to what game they are playing and on what console; the other users can then join them.
Nose Goes, with which a user can alert friends to a chore or job that he or she wants done and recruit one of them to do it.
CrossCheck, an educational app that uses a crossword-puzzle challenge to make studying fun.
The nine interns came up with the ideas in group brainstorming sessions. Then they split off into five teams (four two-person teams; plus Guha working solo on CrossCheck) and built them. To make things easier, each team used software development kits, also developed by Stanford.
When not immersed in code, they took time out to have fun, as well. They'd go outside to play Frisbee, grab sandwiches and cupcakes at a local deli, and blast pop music in the lab.
In the third week, the interns delivered presentations on their app projects to two audiences of high-school students. Both audiences were quite impressed, according to Yan.
"I think people were really surprised that high schoolers were developing apps, and were curious about how we made these in a few weeks. Many of them immediately pulled out their iPhones and Androids, asking us if Musubi was available for them to download," she said.
The interns amazed themselves, too. They went into Migo thinking of software as just for high-skilled techies; they left it with the realization that they, too, could create things with code.
"I think people were really surprised that high schoolers were developing apps." ~ Lisa Yan
"I thought I would be sitting at a computer coding for hours, and was worried that my coding experience was not enough. However, in the first week I learned that there's a lot of creative thinking that goes into research, and that working on projects is not that much of a daunting task," said Yan.
Bucking the Trend
Nationwide, enrollments in high-school computer science classes are actually declining. The interns and their mentors talked about common stereotypes that may be contributing to this—i.e., young people think that computer-science professionals are socially awkward, work 80 hours a week, are too busy to have personal lives, etc.
The interns agreed, though, that Migo defied these stereotypes. Each intern had plenty of hobbies outside programming. Their five-week endeavor included plenty of fun R&R in between shifts. And when they did put in long stints of work, they did so because they enjoyed what they were doing. Chan hopes that other young people who hold negative ideas about computer programming work will give it a chance.
"I would tell them to keep an open mind and just try it to see how they like it. Although they may meet people who identify with the typical nerd, I guarantee that they will also find many people who are fun and interesting just like them," she said.
A Platform Like No Other
The interns also left the program wowed by Musubi. Compared to Facebook and Twitter, Musubi was a whole new latitude. To share not just short messages or photos, but actual games and Web pages of their own making, was new and profoundly exciting.
"I realized I have been worn down and forced into submission by Facebook, and Twitter, to communicate via mass statuses. But now, I can play truth or dare with my friends, or play Nose Goes who drives us to the movie, or study together with crosswords for that AP exam coming up," said Munshi.
The interns left the program wowed by Musubi.
You, too, can try Musubi out. Just download it from Apple's iTune store or the Android Market. If you do, you may find that it opens up new possibilities for interaction that neither Facebook, nor Twitter, nor any social-networking site before ever made possible.
"Musubi was one of the greatest apps I had laid eyes on, not because of the app itself, but because of the potential," Munshi said. "It was genuinely great fun, and has and will have the potential to be so much more."
A Bit More About Musubi
The software is available on Android Market or the iPhone store. The Stanford MobiSocial view here Is that there is an alternative out there and it is possible to use social networks in a different way and not succumb to the Facebook way. To use Facebook you have to sign up and give them all the rights to use your data.
Musubi is an alternative piece of software that people can protect their own data with while still interacting via a social media/network medium. Download Musubi to try it yourself. There will be a Software Development Kit (SDK) that people can download to write their own projects soon.
High school students are developing apps for Musubi. As a high school student, college student, parent, teacher, anyone, you can do it too. Take the time to check out Musubi. It is a worthwhile adventure!