Cloud Computing Certifications?
Cloud technologies are changing existing job roles. Many employers are looking for software professionals who are comfortable in a cloud world or transitioning to cloud computing from another role. Job ads may cite a range of skills: designing scalable data systems, deploying virtualized servers, administering SQL servers, and programming in C++. It can be desirable to be familiar with platforms like Amazon AWS and Windows Azure as well as frameworks like Hadoop.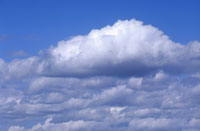 Cloud Computing is bursting with opportunity. Certification in Cloud Architecture and related areas may help professionals find jobs as well as advance in the field.
Certification is one way of demonstrating competency. There is no best certification for cloud computing. You'll find certifications that apply to different job roles (security, architecture) as well as different platforms and technologies. Choices abound. Some certifications are vendor neutral while others focus on specific products and solutions. Some require you to take their classes while others offer certification of existing knowledge.
Vendor Neutral Certifications
CompTIA offers a vendor-neutral certification that allows IT professionals to demonstrate general understanding of the cloud from technical and business standpoints.
ZapThink offers a certification for the more advanced professional, the cloud architect. You do have to take ZapThink courses, but you can pursue your Service-Oriented Architecture Training & Certification in a physical location or online.
Another option for the cloud architect is EMC.
Cloud Security Certifications
Security is trickier in a cloud world. The Cloud Security Alliance Certificate shows you know the issues and can find solutions.
Questions are organized into thirteen domains. Among these are cloud architecture, compliance and audit, encryption and key management, and application security.
The exam is multiple-choice and is offered at centers around the country. A majority of questions are from the CSA Security Guidance for Critical Areas of Focus in Cloud Computing.
VMWare Certification
Other certifications are product specific. This isn't necessarily a disadvantage – not when you consider how ubiquitous some technologies are.
Certification is one way of demonstrating competency.
VMWare certification is quite popular. VMWare offers certification in both data center virtualization and desktop virtualization. There are multiple levels for each.
If you're a datacenter specialist, VMware Certified Design Expert is the highest level you can aspire to. VMWare Virtualization Certified Professional is a more common certification that employers regard favorably.
Microsoft Certifications
Microsoft offers several cloud-oriented certifications for those who work with Microsoft products. Certifications are organized into broad roles: software development, database management, infrastructure management, and services management. Software development certification focuses on the Windows Azure platform. Competency with Microsoft Visual Studio is also assessed.
If you're pursuing services management certifications through Microsoft, you'll pick one of three tracks. Depending on your experience, you may opt for Microsoft SharePoint, Microsoft Exchange, or Microsoft Lync. Each track includes multiple examinations.
Database certifications focus on Microsoft SQL. There is a standard database track and a business intelligence track.
Microsoft certifications change as technologies change and improve.
Other Vendor Certifications
HP, Salesforce, and IBM also offer certifications for those who work with their products.
Earning a Master's
If you're a new professional, you'll want to scout around a bit to see what the preferred certifications are in your locale.
A master's tends to be very portable.
If you are looking for something more to show that you are up to date and committed to learning, you may opt for a master's degree.
A master's tends to be very portable. Wherever you head in the nation, it will be recognized. Of course the situation in your city will go a fair way in determining how valuable it is. Some positions in cloud architecture or development do list a master's (or "advanced degree") as preferred.
You'll find coursework on cloud computing integrated into many master's programs. If this is the area of software that calls to you, you can opt for a master's in cloud or cloud and virtualization.