Nevada-Reno's Computer Science and Engineering Degree is One Credential with Many Applications
By Rick Docksai
Get a degree in software engineering, or get a degree in computer science? At many engineering schools, students studying for a career in computers must decide one way or the other, depending on whether they would want a career focused on software, or one in which they also work with hardware and other facets of computer systems. The University of Nevada-Reno, however, does things differently. Students there can get a sound training in software engineering and computer science simultaneously, by completing the Computer Science and Engineering bachelor's degree.
"Game companies Bally Technologies and IGT, in particular, hire many Nevada-Reno graduates." - Dr. Varol
This degree is a "hybrid" that merges computer science and computer engineering into one curriculum, according to Yaakov Varol ,Professor and Department Chair in the Department of Computer Science & Engineering, who says that his university is one of several universities around the country that now offer such a degree— the University of Southern California and Massachusetts Institute of Technology are a few others. They do so at the encouragement of tech employers, who value graduates who have the extra knowledge and can take on wider arrays of work, he adds.
"Our constituents in the companies and industries that we serve are very much interested in graduates that have a good foundation in hardware and an expertise in software," he says. "Wherever they go to work, they will have a complete foundation to do the work. They won't have any gaps. They won't have any missing links."
The demand for graduates who understand software and hardware both is understandable, since both systems must work together in a computer for that computer to function. Just as important, a computer needs specialists in hardware and software to work with each other effectively if it is to make the leap from drawing board to market-ready product.
"You can't be a good software specialist if you don't have a good understanding of the hardware and the communication components behind the software," Varol says. "There is a lot of synergy (between the two fields)."
Finding a Niche
Although all students in Varol's department complete the same core curriculum, each student may choose from four subject areas in which to specialize: computer and network systems, games and simulations, software systems, and intelligent systems. A student will specialize in computer and network systems if he or she wants to be a network administrator for a business.
Games and simulations includes video game production, of course, but there are many more applications this subject area prepares students for: The military, for instance, needs graphics people to develop combat simulations programs for training recruits. Software systems covers Web and mobile-phone apps, as well as personal and business computer programs.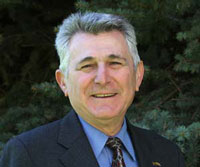 Yaakov Varol ,Professor and Department Chair in the Department of Computer Science & Engineering
As for intelligent systems, this subject area includes an array of very active fields of R&D: artificial intelligence, medical diagnostics, fingerprints and biometrics, and image processing. As Varol puts it, it is any application that involves the computer "taking information and processing it in an intelligent way."
Students can sub-specialize in an even larger variety of more specific research fields, in addition to the four subject areas above. These include robotics, software engineering, digital interactive games, and cyber security.
Cyber security is drawing large numbers of students now, according to Varol. He also sees many students take up game design, in part because Reno's huge gaming industries will readily offer them jobs. Game companies Bally Technologies and IGT, in particular, hire many Nevada-Reno graduates.
Varol sees other substantial numbers of his students land jobs at General Electric, which has a large presence in Minden, a town 50 miles from Reno. Still others find jobs with companies who contract with the military, such as Sierra Nevada Corporation (not to be confused with the beer company), and with large software companies inside and outside the state—Hamilton Robotics, Intuit, Microsoft, and Amazon among them. Students find work at these and other companies courtesy of the career fairs, and through internships—as in any other field, a company may hire an intern who particularly shines.
The Senior Project
Whatever subject area they specialize in, all senior-year students are required to come together and complete the capstone project, which lasts both senior-year semesters and entails creating a software program or app. Varol and his colleagues solicit project ideas from businesses around Nevada. It's a win-win: The businesses get to use the completed projects, and the students get to make their talents known to the businesses, who just might hire them afterward if they are particularly impressed.
"Many of our partners get to know our students through these projects, and then that's another way for students to make contact [with potential employers]," Varol says.
Seniors typically take on projects in groups of three or four. Last year's class had 45 students, so there were 12 projects total. Most groups seek additional guidance from a faculty member and from a computer engineer or software specialist of the company that suggested the project.
One project from last year could literally save lives. It's a wireless-communication app for military units in combat zones. When a soldier is wounded and the unit is rushing him to a field hospital, the app conveys information about the soldier and his injury to the hospital staff, so that they will be ready to start work on him before he arrives.
Another project won an award in a Microsoft-sponsored competition. Called "G-Sales," it is a Web-based app for locating garage sales. A third project is being taken up by games company Bally Technologies, it is a gaming payment system that connects smartphones to slot machines.
Ready for Anything
"The quality of some of the courses [at UNR] was better than what they're getting [in graduate degree programs] at these big-named schools," Varol says
The integrated curriculum that Nevada-Reno's computer science and engineering students undertake fully prepares them for high-level work in a multitude of sectors. One will hear this not only from Varol, but from former students who have gone on to pursue graduate work at Harvard, MIT, Stanford, and other prestigious universities.
"One of the reports we hear from them is the education they received from us is the equivalent of the education they're getting now, and the quality of some of the courses here was better than what they're getting at these big-named schools," Varol says.