Pennsylvania State University-Behrend Software Engineering
At Penn State Behrend, Industry-Student Partnerships are a Boost for Innovation
NASA will send a satellite into orbit later this year with a little help from software-engineering students at Pennsylvania State University-Behrend. As a for-credit "senior design" project, several students built a controller board that will go into the satellite's circuitry.
"The [Software Engineering] program is aligning itself with industry's needs and demands. And they [employers] want software engineers," says Coulston
It would be big news on any campus if a few students personally made something that lifted off into space. But according to Chris Coulston, chair and associate professor of Penn State Behrend's Software Engineering program, this is just one of a continuing series of exciting projects that participants in his classes devise every semester for the businesses and government agencies who sponsor them.
"We've got really good teams. Most will make a fabulous contribution to their sponsors," says Coulston.
Penn State-Behrend's program, the only undergraduate software-engineering program in Pennsylvania, is an intensive four-year training in building and modifying all of the software systems that keep society running—everything from spacecraft and GPS systems to video games and smartphone applications. It's "designing for a purpose," as Coulston calls it, and industries across the Midwest manufacturing belt depend on it—as evidenced, he adds, by the numerous high-profile employers in the region who hire his program's graduates.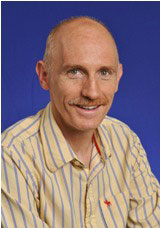 Chris Coulston, chair and associate professor of Penn State Behrend's Software Engineering program
"Cleveland, Youngstown, Pittsburgh, all of these places are hiring software engineers," says Coulston.
Arcelor Mittal, the world's largest steel company, is one prime example. Quite a few alums work for its plants in Harrisburg, Pennsylvania; and in Chicago. Allegheny Ludlum, another large Pennsylvania steel company, also brings some of Coulston's graduates on board. Employers outside the Midwest scoop Coulston's graduates up, too: Lockheed-Martin, GE, and Intel among them.
"The program is aligning itself with industry's needs and demands. And they want software engineers," says Coulston.
Partnering With Employers
It helps the students' employability prospects that they get to forge links with employers while still in school. The opportunities start with internships. Penn State Behrend's Career Development Office arranges for students to intern with employers throughout the county.
Next are the co-ops, which are stepped-up versions of internships. A student will alternate between a semester of classes on campus, a following semester of leave from classes to work full-time for an employer, return for more classes the following semester, and on and on. It will take the student five years to graduate, not four, but in return the student gains exceptional real-life work experience.
Some of the most memorable—and resume-boosting—endeavors, however, take place during the senior design projects, in which students work in groups with a sponsoring business to create new products and apps. Each group has two or three students plus a faculty advisor, and they get a full year to bring their project to completion.
Every August, Coulston and his colleagues call up the region's businesses and invite them to submit proposals for projects that they would like students to undertake on their behalf. This mass solicitation typically nets around 20 or 30 proposals in time for the first week of September, when the seniors review all the proposals. Over the ensuing two weeks, each senior selects a project and one or two classmates to partner with on it.
"We have basically an Easter egg hunt; everyone figures out their teams," says Coulston, adding that "it's amazing how self-organized it is. I tell them 'you'll be working on a team of two or three students.' And students A, B, and C will all gather onto a team and all want the same project."
Come the second week of September, according to Coulston, the students are "ready to rock." They have until April to finish and give a "technical review" presentation on what they did.
The aforementioned NASA satellite circuitry was one of last year's projects. Also in the bunch was an IBM-sponsored app to assist a Ohio draft-horse-rescue center named Frog Pond. The students designed a Facebook function that would help individuals who find abandoned or neglected draft horses to get in touch with the rescue center; veterinarians; people with helpful supplies, such as trailers; and anyone else who could help get the horses to safety and, eventually, new caring owners.
Some of the most memorable—and resume-boosting—endeavors, however, take place during the senior design projects
Yet another team came up with a tracking program that steel plants can deploy to keep tabs on their mixtures. As Coulston explains, each plant has multiple pots for melting different metal mixtures simultaneously—stainless steel in one pot, aluminum in another, etc.—but the workers sometimes have trouble remembering which mixture is in which pot. The tracking software fits onto each pot's side and alerts them, thereby cutting down on costly mix-ups.
These three projects commenced after the businesses submitted proposals. But other projects land on Coulston's desk from students themselves. A student interning for a company will often plan out a project proposal with his or her company internship coordinator. Coulston is happy to receive proposals from this route, too.
"You (the company) know the student, and the student knows your core business; they're already up to speed on what's going on," he says. Some exemplary student projects earn the students more than just academic credit and work references. According to Coulston, graduating seniors have gone on to work for their company sponsors.
The Soft Skills
Software engineers don't just work with computers. They also work with other people. Coulston and colleagues are aware of this, so they couple all the technical training with instruction in the human side of the business. Classes in business management, speech communication, and technical writing are all mandatory in the curriculum.
"The employers want 'soft' skills—-people who can communicate, talk well with customers, and understand the business side," says Coulston.
He knows that his students are all the better for it by the feedback they give him many years after graduation. These alums fill him in on the interacting they do every day with clients, vendors, and customers while they go about designing their cutting-edge new software apps.
"They're giving presentations every day, or sending 50 e-mails every day, or calling clients every day," he says. "That's where the rubber meets the road."