Opportunities Abound in UMD's Computer Science Program
By Rick Docksai
As their graduation dates near, college seniors across the country dread having to go compete for limited numbers of entry-level jobs. Not the students in the University of Maryland's Computer Science program, however. They can look forward, instead, to companies everywhere competing for them.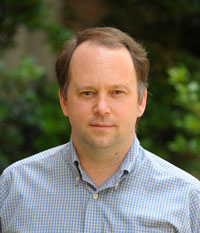 Jeff Hollingsworth, PhD, Professor and Associate Chair of Undergraduate Studies
This is according to Dr. Jeff Hollingsworth, associate chair of undergraduate studies. In his three-and-a-half years as associate chair, he has seen class after class go on to attain job security and salaries that would make them the envy of most members of their generation.
"To date, no student has come to me at the end of the program and said 'help, I can't find a job. What I get instead is a lot of companies calling up and saying 'help, we need more people," he says.
Amazon hires many UMD computer-science graduates. So do government contractor firms. Google is another popular employer—not too surprising, since Sergei Brinn, one of Google's two co-founders, is himself a University of Maryland computer-science alum.
Then there is the ever-growing field of cyber security. According to Hollingsworth, the Washington, DC, area in particular has a huge concentration of firms that seek IT security professionals.
The Maryland program accommodates the cyber-security need by offering extra course offerings in IT security. All of the school's students graduate with the same bachelor's degree—Computer Science. But those students who take these extra IT security courses will have it reflected in their degree: They will have a Bachelor's Degree in Computer Science with a concentration in IT security.
"[Students] can look forward to companies everywhere competing for them." - Dr. Hollingsworth
Student Businesses
Other graduates start their own companies. Hollingsworth recalls a government contracting firm and a producer of an iPhone app, both started by graduates who completed the UMD program in just the last four years.
"The students' levels of entrepreneurship have shown a dramatic increase in the past two or three years," Hollingsworth said.
Current students see it, too. Among the 40 companies that visited the computer-science school in February for an IT career fair, four had been started by school alums.
The rise of Facebook, Twitter, and other social-media conglomerates in the last few years may lie behind some of this entrepreneurial student wave, according to Hollingsworth. Facebook was itself started by a few college students, after all. And seeing these sites grow so popular so quickly could be just the inspiration that some Maryland computer-science students needed to attempt tech ventures of their own.
"People saw the success of companies like Facebook and Twitter," he says.
Also helping these young entrepreneurs, Hollingsworth adds, is that Internet technology is making starting a business much easier and cheaper than it used to be. For example, instead of leasing office space and buying new computer equipment—obligatory first steps for a startup company 10 or 15 years ago—today's startups can rent server time from the Amazon cloud or from other companies. They will pay for Internet service, but through "cloud computing," they can forego the costs of many computer software and hardware items.
"The students' levels of entrepreneurship have shown a dramatic increase in the past two or three years." - Dr. Hollingsworth
"Think of it as rather than buy a car you go down to Hertz and rent it. That's what you do with computers today," says Hollingsworth.
Alumni and Students Connect
This proliferation of alumni startups bodes well for the present-day students. Their chances of landing jobs will be all the higher if the employers and they hail from the same alma mater.
"We're definitely seeing that people who graduate from Maryland want to come back and hire Maryland alums, because they know what skills they have and that they'll become good employees," Hollingsworth says.
And if nothing else, these alumni entrepreneurs can be great role models. Current students can look at them and see all the more reason to pursue computer-science degrees with gusto. If these alums could start successful businesses, many more students can, too.
"One of the reasons more students are getting excited about IT is they're seeing former classmates go on to pursue opportunities in the field and excel at it," Hollingsworth says.
An Ever-Growing Field
Google, Amazon, and the alumni startups are just a few of the huge bounty of opportunities that lie ahead for computer-science graduates. Hollingsworth sees needs for IT specialists growing in virtually every career sector, from health care to telecommunications to household appliances. When students of the Computer Science program graduate, they will have no shortage of businesses that want employees who possess their unique skills.
"Everything in the world is increasingly being driven by technology. Everything from your refrigerator to your smartphone to your laptop is computer programmed and needs a computer programmer to design it and maintain it," he says. "It's definitely an ever-growing field."
Staying Relevant
It's no secret that the IT world is a place of rapid change: new programs, new apps, new devices cropping up day after day. But UMD's Computer Science program doesn't have too much trouble keeping up. Hollingworth points out that the fundamental processes by which computers and computer networks work will take a very long time to change.
The school's program devotes the majority of its instruction to these fundamentals, which include basic computer programming, software development, the ways that programming languages work, and the "theoretical bases" of computer science. Students who master these areas will have a base of knowledge that will serve them well throughout their professional lives.
"We emphasize skills that will last a career, not skills that will be obsolete in two or three years," Hollingsworth says.
But the school stays on top of the smaller details, too. Hollingsworth says that the department staff upgrades the curriculum every year, and students take one-credit courses in specific technical skills such as the programming languages Javascript and CSS.
"What's unique about a computer science degree is that you can keep updating on the little bits of technology, but you have the foundation to build a career," Hollingsworth says. "It's a very technical program, but it's one with very durable skills."