Erin Keith is a Software Engineer, Team Player, and Problem Solver
While studying for a software-engineering degree introduced Erin Keith to a range of programming languages, software coding formulations, and other technical capabilities that employers crave, the most marketable skills that she acquired might have been good old-fashioned thinking and problem solving. Calculated Industries, a Nevada-based maker of calculators and measuring devices, hired her as a quality assurance analyst following her graduation from the University of Nevada-Reno's School of Computer Science and Electrical Engineering not because of her data programming capabilities, she says, but because her academic record proved that she was adept at trying an approach to a task, assessing it, and backing up and trying another if necessary.
"I can hop into a situation that's pretty foreign to me and put all of the pieces together." ~ Erin Keith
It's a skill set that made her a stronger job candidate and, in addition, made her first few months on the job much easier. She didn't know most of the company's unique technical coding, but she knew how to think each day's projects and tasks through, and that was enough.
"I can hop into a situation that's pretty foreign to me and put all of the pieces together," she says.
Hands-On Learning
Keith graduated from Nevada-Reno last May with a bachelor's in "Computer and Information Engineering," following four years of study that combined textbook instruction with actual practice designing and building apps in-class. Keith fondly remembers working in groups to build electrical circuits into basic formations and then, after some practice, complex structures like an induction motor and a project with a switch for power generators.
"What I got the most out of the program was that we got to get our hands dirty and build projects a lot of the time," she says.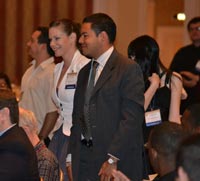 Erin Keith (Standing on Left) Is a Graduate of the UNR Computer & Information Engineering Program
She got plenty of real programming experience outside her assigned courses, as well. As she got to know certain professors well, they referred her to a number of additional research and work opportunities on campus, such as a five-month tutoring stint in which she would conduct debugging and troubleshooting of other students' coding and personally guide the students to solutions.
Her biggest project awaited her in senior year, when she joined her class in a year-long creation of an automated lawn-sprinkler system with sensors that would shut off water flow if its on-board sensors detected rain coming—a potentially very useful appliance for communities in the grip of water scarcities. This senior project further honed Keith's program analysis skills and, in addition, helped ignite an interest in sustainable technology, which she carries with her to this day.
"Green is big right now," she says. "I'd like to spend more time building programs for intelligent, controlled systems, to allow our technology to be a little smarter about conserving water and electricity and things like that."
Working on a Team
In her present job, Keith tests new calculator systems following their initial assembly by Calculated Industry's teams of developers. She doesn't do the building herself, but she has used her software-engineering know-how to create "scripts," or programs that emulate each new calculator's system to make sure that every one of its functions runs as it should.
"We're giving feedback throughout the process, and because a lot of the functions are complex, we're testing all of that as the project is developing."
"There are a lot of complex interactions between the functions and the keys. You have to think about how the code works and think about how the problems might be worked out to provide potential solutions to the developer," she says.
Keith doesn't have to know all the ins and outs of how the developers build those calculators. But she does need to understand what they are trying to do, know how the product is supposed to work, and know how to talk to them about it if it does not work right. According to Keith, the knowledge that she gained while completing her software-engineering degree helps her to do all of these.
"We're giving feedback throughout the process, and because a lot of the functions are complex, we're testing all of that as the project is developing," she says. "And if something doesn't seem to work, then we go back to the developers and say this is how we think it should work."
Green Design
When she's not working at her day job, Keith is pursuing further studies in the University of Nevada-Reno's software-engineering grad school, pursuing her passion for environmentally sustainable design. Her current research includes working on making wind energy more efficient by outfitting wind turbines with sensors that connect to a community's electrical grid and modify the turbine's electricity output so that it never releases more electricity onto the grid than the grid is able to handle.
As Keith explains, wind turbines' electricity output is inconsistent, since wind varies. When wind picks up, a grid with a lot of wind turbines can become overloaded and fail. The sensors that she is trying to develop could resolve this by enabling the turbines to sense when the grid can accommodate more electricity. That will make wind energy safer and easier to use.
"If you can predict that sort of thing, then we'll hopefully be able to integrate more wind power into the existing system," she says.
Learning from Others
Collaboration is key to Keith's job now, and it was equally key to the education that she completed leading up to it. She was a relative novice to software technology when she first enrolled at Nevada-Reno, many of her fellow students having already spent years working on software apps. They were happy, however, to share their knowledge with her and bring her up to speed. She credits her professors, as well, for leading her to opportunities that she would never have found on her own.
"It's certainly helped to have a great community," she says. "We're all nerds, and we're all nerdy buddies."
She encourages any new student in software engineering to likewise reach out to others around them. Taking the time to talk to professors outside class, or to bounce ideas off classmates, can pay off richly, she says.
"You'll go farther and have a lot more opportunities," she says. "Any opportunity that you have to make a connection is beneficial."